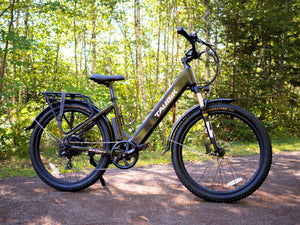 Electric bikes to power your ride.
Find out why people are choosing Taubik.
READY TO ORDER
Our electric bikes are ready to purchase, exclusively at any of our TAUBIK authorized retailers.
AUTHORIZED RETAILERS
Proudly Canadian
We're a friendly team, passionately delivering the highest quality & customer experience. And we won't apologize for it.
About us
1-year Warranty
We will stand behind all of our bikes, which is why we offer a 1-year warranty on all components.
Warranty
READY TO GO ANYWHERE
All TAUBIK frames are hydroformed aircraft grade aluminum – ready to take you from commute, to trail or mountain, and through gravel, mud or snow. Switch between direct throttle or our pedal assist technology, to seamlessly match your pedal stroke with electric motor assistance.
DESIGNED TO MOVE
Tau (τ) is the Greek symbol for torque (or rotational force), and it's at the heart of everything we do. Every aspect of a TAUBIK bike has been built on the foundation that electric bikes should provide unmatched power, smoothness, and fun.
THE TAUBIK STORY